---
---
---
While staying at Balule River Lodge your senses will be bombarded with a wide range of impressions, but you will also have time for peace, tranquility and reflection.
In the bush amazing wildlife encounters await you, the camp's two amazing guides Jonathan and Edward will bring you close to and help you understand the surrounding nature. Here you will gain a fascinating insight into the many widely different aspects of the African bush, and have it explained to you by two people who not only work in, but have a great passion for nature,  and who always have a friendly gleam in their eye.
Back to the lodge you can enjoy the food conjured up by the chef from local African ingredients., while the serving staff provide an excellent standard or personal service that is both warm and friendly. The maid service makes sure that the lodge and all the rooms are kept clean and tidy, while also providing other services such as a daily laundry and ironing service is you require  it. Ulrik makes sure that the lodge runs smoothly. To do so he draws on both his Danish background and the vast amount of knowledge, insight and experience that 20 years of being in South Africa have enriched him with.
---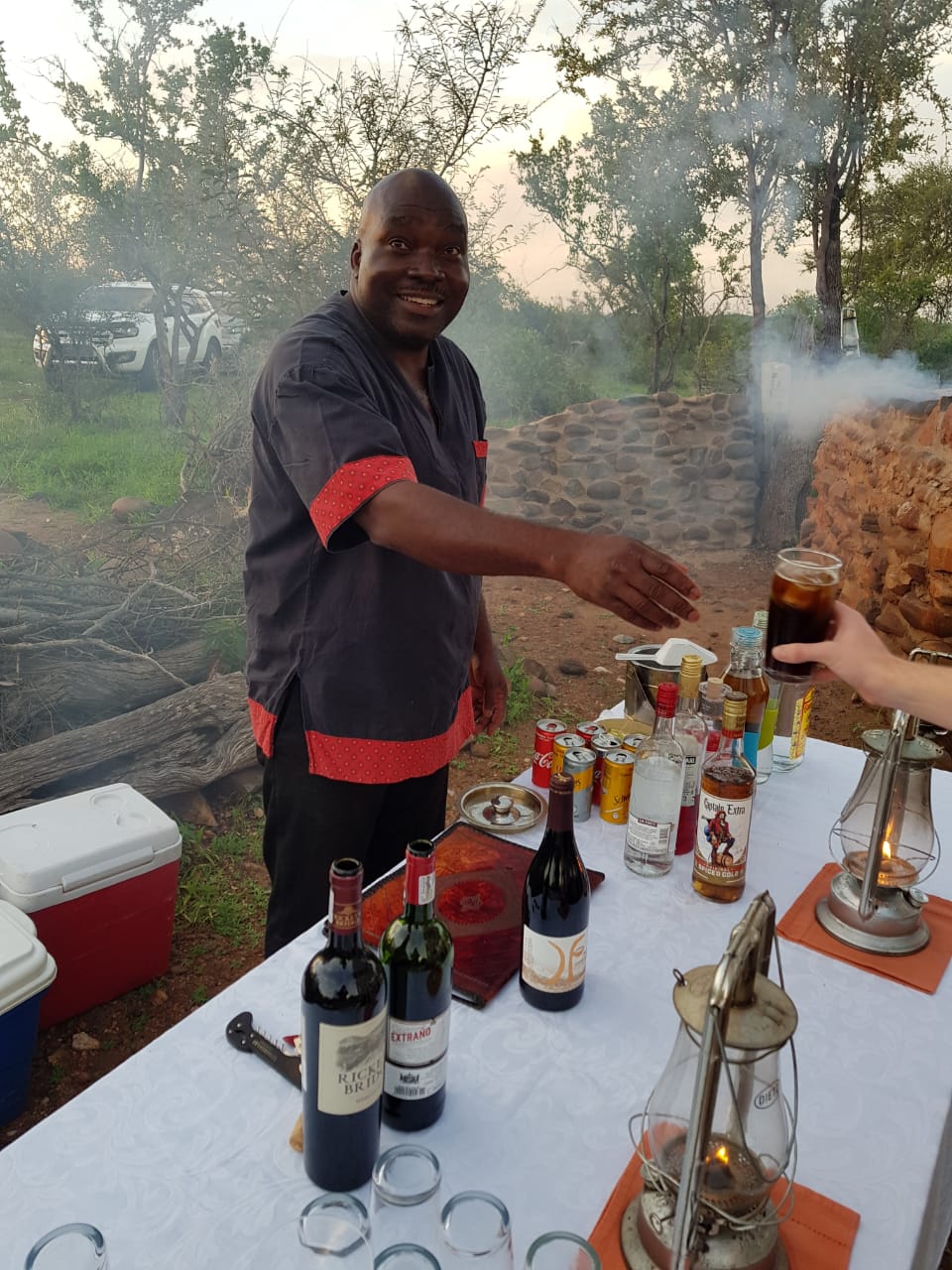 See videos from the Staff
---
---
---
---
---
---
South Africa is a melting pot of many different nationalities and cultures, which have all contributed to modern South Africa cuisine. South Africa has wonderful farmland and produces raw ingredients of very high quality.
You can taste the difference!
Breakfast and lunch is normally served on the large terrace next to the main building which offers a view over the bush, the Olifants River and the many animals that come down to the river to drink. Dinner is often served out under the stars of the African night sky in the "boma". To see thousands of stars above you and hear the roar of lions in the distance is an experience that really helps to improve your dining experience.
It is possible to purchase a drinks package for Bothe children and adults, which in effect gives you an "all inclusive" stay. For adults the package includes house wine, beer and spirts from the bar menu.
In the temperature controlled wine cellar there is a rich selection of South African wines. Wines based on a number of different grapes are offered: Cabernet Sauvignon, Pinotage, Pinot Noir, Shiraz, Melot, Blends, Sauvignon Blanc, Chardonnay etc. As well as the red and white wines a single rosé wine is also offered. If you are vegetarian or have a gluten allergy, your wishes for special meals will of course be accommodated. Simply remember to lets us know your needs when booking your holiday.
---
See more pictures of Staff from Balule River Lodge
---
---